Iran: Giving Iranian children access to quality treatment
Programme Coordinator: Françoise Monard and On-site Coordinator: Maryam Marashi
Since 2008 La Chaîne de l'Espoir (France) has been collaborating with La Chaîne de l'Espoir (Iran), organising missions on a regular basis and training Iranian surgeons in France. The objective set by La Chaîne de l'Espoir (Iran)/Zanjireh Omid Institute, created by Maryam Marashi in 2007, is to give disadvantaged children in need of orthopaedic surgery, cardiac surgery or reconstructive surgery access to quality medical and surgical care.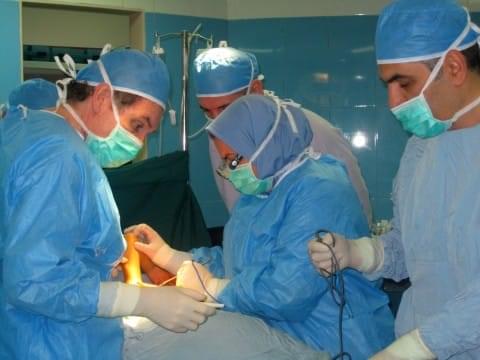 OBJECTIVES : 
To care for and operate on Iranian and refugee children, free of charge  and without regard to their race, religion or nationality 
To complete the training of local personnel by sending missions composed of French medical professionals
To welcome Iranian doctors in France to complete their theoretical and practical training
ACTIVITES :
Missions in Iran
La Chaîne de l'Espoir sends missions of surgeons to operate on children and to dispense practical and theoretical knowledge to local teams. An average of 7 missions are organised each year.
The children are cared for in one of Zanjireh Omid's five partner hospitals, the Medical Centre for Children, Imam Khomeini Hospital, Shahid Rajaie Hospital, Sina Hospital and Valiasr Hospital. 
Training in France
La Chaîne de l'Espoir (France) accommodates Iranian surgeons who wish to complete their training in France in cooperation with the French Embassy in Teheran.