Ivory Coast: the Bingerville Mother-Child Hospital
Programme Coordinator: Nathalie De Sousa Santos
The Bingerville Mother-Child Hospital aims to reduce the maternal, neonatal, infant and child mortality rates. With support from the Children of Africa Foundation, the Bingerville Mother-Child Hospital will be a private non-profit establishment with a mission of public service. Currently under construction, the hospital will open its doors in June, 2015.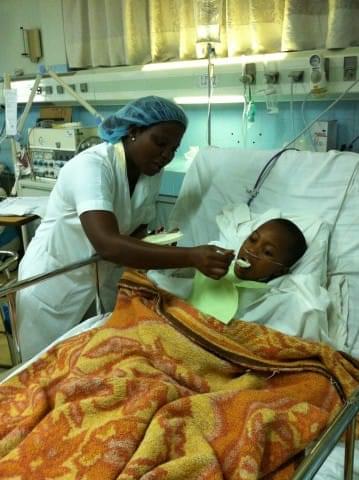 LA CHAINE DE L'ESPOIR'S ROLL :
At the solicitation of the Children of Africa Foundation, La Chaîne de l'Espoir lends its expertise:
To define the medical project
To advise regarding the architectural plans and the construction of infrastructure
The development of a strategy to equip the hospital and advice regarding the choice and installation of materials
Defining the hospital's legal status and drafting agreements
Assistance in writing a business plan
Development of an organigram, advice regarding hiring and training of medical and paramedical teams.
Support in recruiting an expatriate management team
HOSPITAL ACTIVITY :
This is an establishment with 110 beds adapted for mother and child.
The medical treatments on offer include:
Examinations
Family planning and health education consulting 
Mother-to-Child HIV-AIDS Transmission Prevention (MCTP)
Emergency medical and surgical care for mother and child
Pregnancy
Delivery and postpartum care
Paediatric medicine and surgery
Medical and surgical gynaecology