Laos: General surgery
Programme Coordinator: Jennifer Navarro
Laos has an extremely high child mortality rate of 57.77 deaths per 1,000 births. This is the highest child mortality rate in Southeast Asia. Paediatric surgery is under developed with only two paediatric surgery units in Vientiane. There are few beds and only so-called simple surgeries are performed due to the lack of a paediatric intensive care unit.
OBJECTIVES :
To take responsibility for and operate on disadvantaged children
To participate in the long-term sustainable development of this country's healthcare system through training local personnel in general paediatric surgery
To contribute to the training of multiple general surgeons in paediatric surgery
To develop a general paediatric surgery module in the context of the existing adult general surgery diploma
ACTIVITY :
In 2011, at the request of the Vientiane faculty, Professor Pierre Hélardot (general surgeon) went on an exploratory mission. He took stock of the resources available for paediatric surgery and met with university authorities to put a training programme in place.
Following this mission, a partnership was formed between La Chaîne de l'Espoir, Amitié-Coopération France Laos (French NGO) and Soigner les Enfants du Monde (French NGO) to aid in the development of paediatric surgery in Laos. 
The first surgical missions took place at the Thakhek Provincial Hospital in the south of the country.
The project is now focussed in the capital, Vientiane, with Mahosot and Children's Hospital, both university hospitals.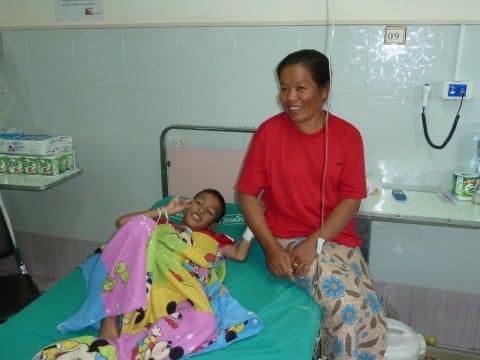 Multiple missions are organised each year in Vientiane. Led by a Chaîne de l'Espoir surgeon, about 25 children are operated on each mission.
Training adult general surgeons in general paediatric surgery.

Training in the operating suite takes the form of mentorship
Identifying leaders in the field, the training of instructors will ensure the continuation of instruction
The creation of a general paediatric surgery module in the context of the existing adult general surgery certificate programme.